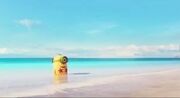 Norbert is one of the Minions who had appeared as a minor character in Minions, and, during MYCUN, Norbert serves as a secondary minion protagonist. He is also one of the main characters in MYCUN.
History
Early Life
Norbert was created when he follows his tribe out of the ocean only to realize that he is naked. He runs back into the water and comes back out wearing starfishes under his head. The narrator then states that he is an idiot.
Minions
Norbert was also seen to be the minion always left behind, like when another yeti chases them and he is the last one to run, and when Scarlet Overkill shot them a fire blast, he nearly fell on the ground area where the fire was made, thanks to a minion, he was safe. Also, during the end credits, he is seen with all the other Minions chasing Gru for a banana, being the last one.
MYCUN
Coming soon!
Personality
Coming soon!
Relationships
Family
Coming soon!
Friends and Allies
Coming soon!
Enemies
Coming soon!
Likes & Dislikes
Coming soon!
Quotes
Coming soon!
Notes
Coming soon!
Trivia
Coming soon!
Gallery
References
External links
Coming soon!