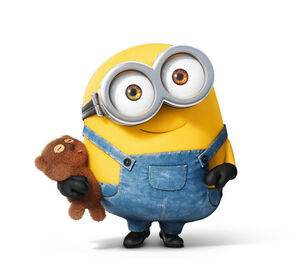 Bob the Minion (simply known as Bob and formerly known as King Bob) is one of the Minions and the tritagonist of Minions. He's also one of the main characters of MYCUN.
Appearance
Bob is a short and bald minion with multi-colored eyes (green and brown). He often carries around a Teddy Bear that he owns called Tim which is brown with yellow buttoned eyes.
Personality
Bob is a minion who is more childish than most. He is described as a "Little Brother" who finds love in anything and everything. He also enjoys bedtime stories and playing with his Teddy Bear, Tim.
Trivia
Bob is currently the only minion shown to be heterochromic.
Bob is one of the leading minions in Minions alongside Kevin & Stuart.
Bob is the youngest of Minions.
Bob is the only minion know to have become king at some point.

He is also the only minion to have become a court judge.